A UPS Driver Stripped Down and Saved a Dog from a Frozen Lake
January 21, 2019 9:10AM PST
If dogs and mailmen can come together, anything's possible.  This happened last month, but it's just making news.  Ryan Arens is a UPS driver in Montana.  And he was on his route last month when he heard a yelping sound.
It turned out someone's dog had wandered out onto a frozen pond and fallen through the ice, about 15 feet off shore.
Ryan saw an older guy trying to break through the ice to get to the dog in a rowboat.  But he wasn't making much progress, and it was taking too long.
So Ryan stripped off his UPS uniform . . . got down to his boxers . . . jumped in the boat . . . and slid ACROSS the ice to where the dog was.
Unfortunately the ice broke, and he fell in.  So he started swimming to the dog . . . lifted it onto the ice . . . and saved its life.  Then the owner of the boat took them both inside, and Ryan and the dog took a hot shower together to get warm.
Ryan ended up finishing his route and delivered another 20 packages that day.  He didn't see the dog again until recently, when he had a package for her owner.
The dog's name is Sadie, and she ran right up to him.  Ryan says saving her was by far the highlight of his 15 years with UPS.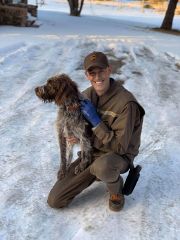 ---